Originally Posted On Publish0x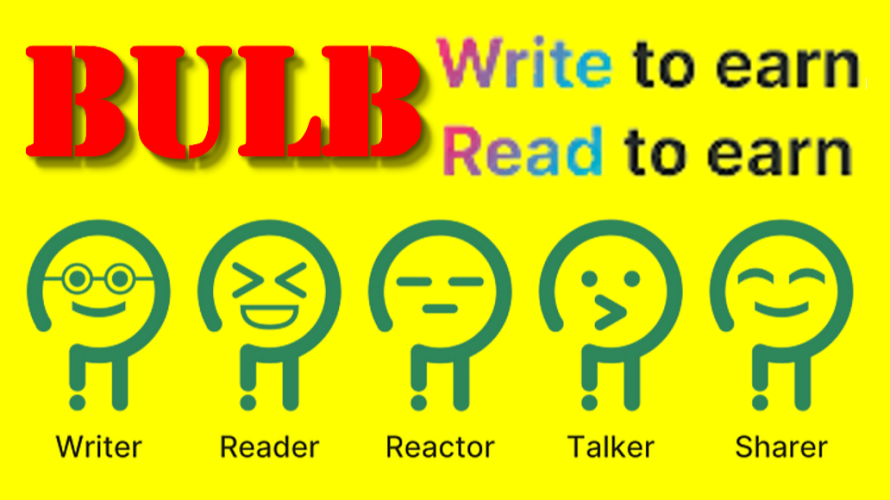 If you are one of those who enjoy writing about what you are passionate about, sharing your ideas and learning from others, I have good news for you: there is a platform where you can do all that and also earn money. It's called BULB and it's a Web3 blogging platform that rewards user engagement with its own cryptocurrency, the BULB token.
BULB is a decentralized platform, meaning it doesn't rely on any company or intermediary to control what you post or what you earn. BULB is a community of people who create and consume quality content on a variety of topics, from blockchain and cryptocurrencies to self-help and culture.
The best thing about BULB is that you can earn BULB tokens for every action you take on the platform. Whether you write an article, read one from another user, react, comment or share, you will be earning BULB points which will then be converted into BULB tokens. These tokens are the fuel that feeds the BULB economy and give you access to a number of exclusive benefits.
For example, you can unlock premium articles from top BULB writers, recharge your energy to keep earning points for your community engagement, boost your post to get more interaction and earn more BULB tokens, buy BULBmoji NFTs to accelerate your earnings, mint your article as an NFT on the Solana blockchain, customize your profile and much more.
BULB is a unique opportunity to express your voice, expand your horizons and earn money doing what you love. Its mission is to change the way we read and write by rewarding your engagement. BULB gives ownership back to the user and rewards content creators for 100% of the value they create within the community.
 "Everyone has their own forms of expression. I think we all have a lot to say, but finding ways to say it is more than half the battle" - Criss Jami.

"Everything we hear is an opinion, not a fact. Everything we see is a perspective, not the truth" - Marcus Aurelius.

All of the Tools, Platforms and Applications that are promoted in this article have referral programs with which you can earn passive earnings without investment, however, I recommend that you do your own research.
⚜ Publish0x - Earn daily ETH, AMPL & $POT for reading or writing articles. Similar to Bulb.
⚜ Bulb - Earn daily Crypto (BULBTokens) and NFTs (BULBmoji) for reading or writing articles and interacting with publications (Airdrops). Similar to Publish0x.
⚜ AddmeFast, BscAds - Increase your traffic sources, your social media presence and earn cryptocurrencies.
⚜ Velzon Trading Bot - Automatic cryptocurrency trading bot powered by artificial intelligence, percentage: 4.5% Daily, Team Profit x Referral Levels (6): 8%-3%-1%- 1%-1%-1% (See article).
⚜ CoinInn - Trading - Bonus between $500 and $750, only profits are withdrawable (Need to complete KYC to extract).
⚜ StormGain - Trading - They can start without investment, capital is acquired with the Bitcoin Cloud Miner. Only profits are withdrawable.
⚜ QuantFury (JRRU2593) - Trading - Bonus in cryptocurrencies or company stock worth up to $250.
⚜ CoinEX, BingX, PrimeXBT, KuCoin, Cex, MoonXBT, BiBox, BitYard, ZooMex - Trading - They offer different bonuses.
⚜ CoinMarketCap, TradingView - Indispensable tool for traders.
⚜ Bitrefill - Living with crypto, a philosophy of financial freedom. Travel, play, eat and live with BTC.
⚜ Nowpayments - Non-custodial cryptographic payment gateway that allows merchants to accept payments in more than 50 cryptocurrencies.
⚜ Mosdex - AI-powered cryptocurrency arbitrage betting platform.
⚜ StormGain affiliate program, Wallet HandCash, Wallet Guarda - Make money and/or cryptocurrencies with affiliate marketing.
⚜ Ledger,  BixBox02, Ellipal Titan, Keystone - Hardware Wallet with affiliate marketing.
⚜ NFTify Store - To create your own NFTs store, without investment, no codes. 
⚜ Books & Other Tools - Some things you may find interesting.
"You will ask yourself: And if I take a risk and lose...? I will ask you: AND IF YOU RISK AND WIN? Success begins with thought, because sooner or later the man who wins is the one who believes he can do it. Do not be afraid of mistakes or failure, winners are not afraid of losing, losers are, in most cases the risk comes from not knowing what you are doing, so trust yourself, learn, be patient, manage your emotions and above all, enjoy the journey, what the wise man does at the beginning, the fool does at the end" - Anonymous.

Author's Note: The opinion expressed here is not investment advice, is provided for informational purposes only, and reflects the opinion of the author only. I do not promote, endorse or recommend any particular investment. Investments may not be right for everyone. Every investment in the market and every trade you make involves risk, so you should always do your own research before making any decision. I do not recommend investing money that you cannot afford to chair, as you could lose the entire amount invested.