Dogecoin is a native coin of the dogechain network that can be transfered from one dogecoin peer address to another without a third party involvement. This makes it a decentralized asset. Dogecoin uses a proof of work consensus thus miners share their computing power to be used to secure the dogechain network and to validate transaction taking place on the dogechain network thus in return they receive a reward in form of new dogecoin mined as well as fees charged in initiating the transaction to the second dogecoin peer address. On Monday the 6th of April, one dogecoin started trading at around   $0.001854. By Tuesday the same week, the price had managed to go as high as $0.002015 Followed by another increase of $0.002040
on Wednesday. On Thursday the same week, the price slightly dropped to around $0.001988
But rises to around $0.002011 on Thursday the same week. This increase in price has been as a result of traders behaviour in market for dogecoin which can be explained as below
Traders behaviour
Although no dapps can be built on dogechain network, dogecoin still has a huge community due to its tipping role in several social media platform. Because of this, it can easily be tradeable in an upward and downward direction and still makes traders profit from it. When the dogecoin market is moving in an upwards direction, that will be an indication that the dogecoin market has previously been oversold thus the market gains an upward direction with few buyers where it profits with them. On the other hand, when the dogecoin market is trending downwards, that will be an indication that there has been an overbought market previously thus causing the dogecoin market to resist moving upwards and reverse to a downwards market direction with few sellers so that it profits with them. Since the beginning of Monday, dogecoin was able to show a possibility of bullish market which can still continue until the end of the week. This bullish market for dogecoin can further be explained on a weekly basis as follows;
1. Weekly dogecoin bullish price analysis based on traders behaviour
In a bullish market, the dogecoin market normally will be moving in an upwards direction. On Monday the 6th of April, one dogecoin started trading at around $0.001854. The price rises to around 
$0.002015 on Tuesday the same week which was followed by another rise to 
$0.002040 on Wednesday the same week. On Thursday the same week, the price slightly falls to $0.001988 by later rises to $0.002020 on Thursday the same week. This price movement for dogecoin is being indicated as from the csndlesticks chart below;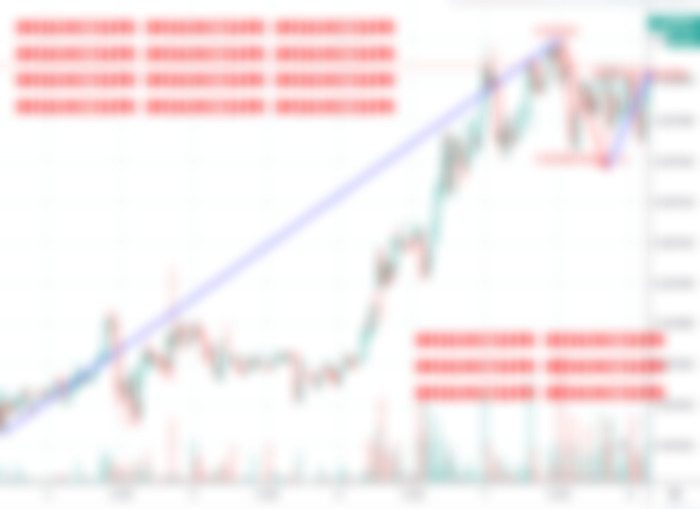 The above is the dogecoin market in terms of USDT. Two points are being indicated . There is point A and point B. Before point A, the dogecoin market can be seen to be moving in an upwards market direction all the way to around 
$0.002020. This upward market movement for dogecoin is as a result of the number of sellers being more than the number of buyers. Because of this, the dogecoin market gains an upward market pressure where it moves upward with few number of buyers to $0.002020 as indicated earlier. At $0.002020, more buyers continue to purchase a given amount of dogecoin with their USDT balance in the hope that the dogecoin market will continue moving upwards . This result to the number of buyers exceeding the number of dogecoin sellers thus causing the dogecoin market to resist to continue moving upwards and instead reverse and starts moving downwards to point A at around $0.001960. At point A, more traders holding dogecoin begin to sell their dogecoin in the fear that the market will continue moving downwards thus causing their dogecoin holding to decline in value. This causes the dogecoin market to gain an upward market pressure and moves upward to point B at around $0.002000. There is possibility of the market to reach above $0.002200 by Sunday if the sellers will continue to exceed the buyers. If you had previously purchased your dogecoin and you are still holding, then you can continue holding until the price reaches $0.002200 or you can sell at around $0.002000 since the market will start moving downwards from there.
below t.me/TeacherForexSchool
 You can also join our telegram group to be able to comment on our channel post or support us over there .You can as well share your trading idea and market idea for both fiat and cryptocurrency and be able to be supported by other community member over there on the group with crypto. Here is the link to our telegram group
Summary
Dogecoin uses a proof of work consensus and is based on dogechain network. Miners of dogecoin are rewarded for sharing their computing power to be used to secure the dogechain network and to validate transaction taking place on the dogechain network. Since Monday this week, dogecoin has managed to rise from $0.001854 all the way to around $0.002040 by Thursday due to the number of sellers exceeding the number of dogecoin buyers. Therefore, we can say that when the dogecoin buyers are more than sellers, the dogecoin market will be moving in a downwards direction while when the dogecoin sellers are more than buyers, then the dogecoin market will be moving in an upwards market direction.
To receive our post directly to your telegram, then you can join our telegram channel from
below t.me/TeacherForexSchool